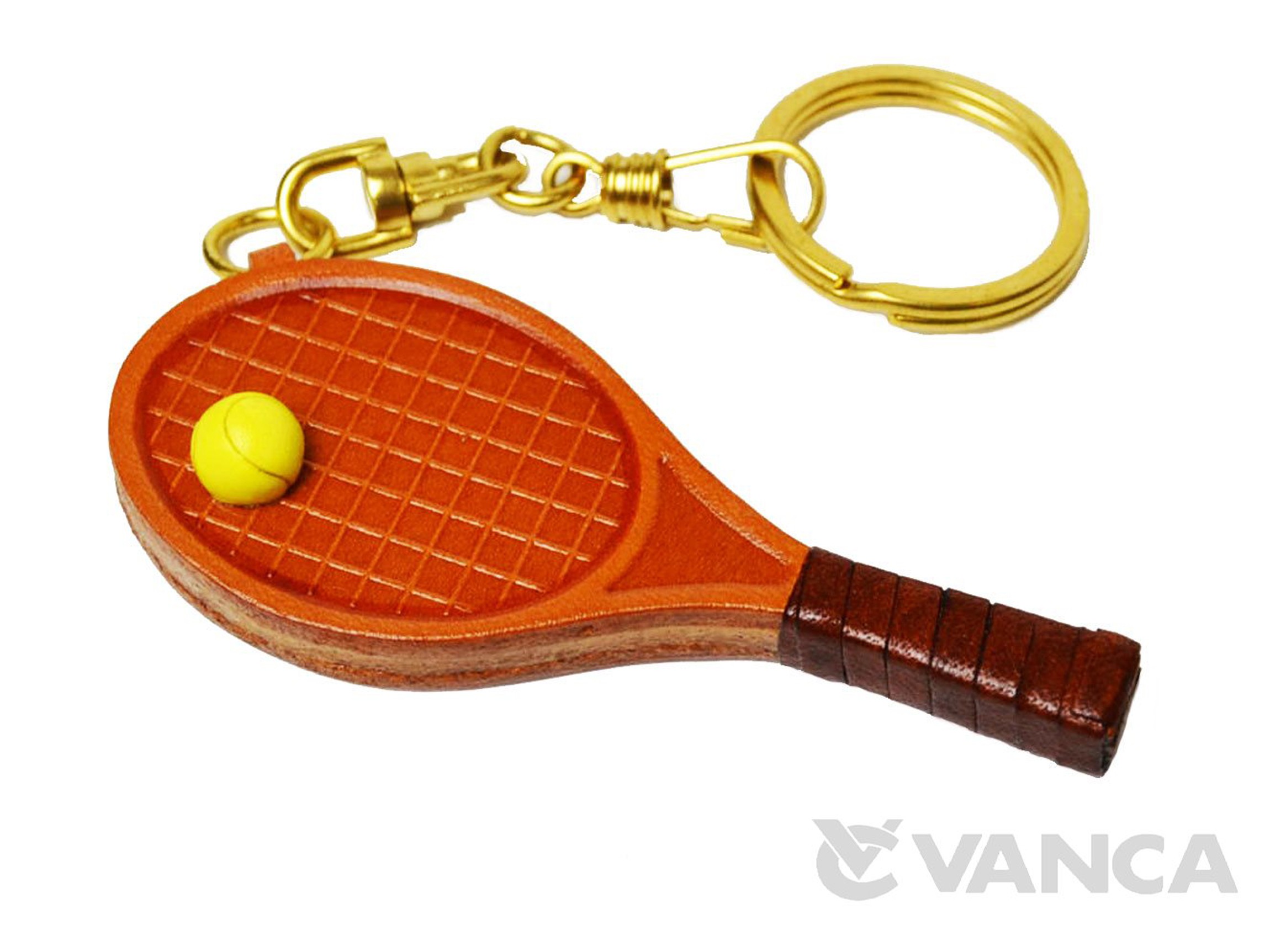 1 of our 16 Leather Sporting Goods Keychains
In case you didn't know, one name has taken the Japanese sports world by storm in recent years: Kei Nishikori. He reached his peak as
number 4 in the world
and he has single handedly brought the sport of tennis to a fever pitch amassing fans and aspiring Japanese youth. In contemporary popular Japanese culture, the mere sight of a tennis racket is synonymous with "Air Kei" himself who has become a national tennis sensation who
wields his tennis racket like how a samurai would wield his sword.
What is doubly surprising is Kei's coach: none other than Asian-American Michael Chang who was the youngest player ever to win a Grand Slam title! We bet you did not know that Chang himself founded an excellent foundation built on these
5 core values
: excellence, integrity, perseverance, teamwork, and compassion.
We, at VANCA, could not agree more! We too would strive for these same core values in our pursuit to provide quality services and an excellent work environment in our Japan headquarters for all our staff, especially our hardworking team of craftspeople who create each item by hand to the smallest detail.
Each tennis racket replica contains meticulous detail that mimics the actual feel of the real thing. The leather grip wrap spirals down from the bottom of the throat to the end of the handle. The tennis head has strings symmetrically designed with a tennis ball frozen in time.
You just might feel the urge to practice your serve the moment you pick this one up.
---------------------------------
This 'Made in Japan' keychain comes with:
- a sturdy snap hook attached to a metal key ring (1 inch in diameter)
- a handcrafted leather 3D replica of a tennis racket (about 2 and a half inches long)
This is just one of our 16 variations of leather sporting goods novelty key chains:
This item would be perfect for yourself, your friends, and loved ones as a cherished gift.
As an added bonus, we deliberately wrap each item you purchase in small, transparent gift bags so that you could easily give any of our items away as a present. We will do this for you for FREE at no extra charge!
Our Guarantee
: All of our products are meant to bring a smile to your face with careful attention to detail. Did we mention that ALL of our products are entirely made of leather? Look it up online. There is no one else in the world who makes it likes us. This is not an overstatement. We are a pioneer in quality handcrafted leather products with an international reach. Our unique keychains are one of a kind. All of our products are made with only the finest organically tanned genuine leather. We use only eco-friendly materials and non-toxic stains.
Be part of our "Leather Story."